WE WANT ROSES TOO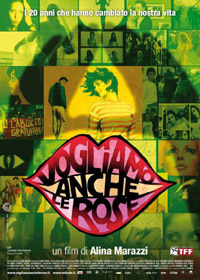 WE WANT ROSES TOO
by
Alina Marazzi
Italy, 2007, 35 mm, 85′.
We Want Roses Too aims to portray the deep change brought on by the sexual revolution and the feminist movement in Italy during the 1960s and 1970s.
The film looks again at recent events from a female point of view, through the first-hand accounts provided by the diaries of three women. Rather than focus on the alleged objectivity of facts, the film gives space to a chorus of voices that narrate those events in first person, visually supported by archival footage of the period, drawn from the most varied sources – institutional, public, militant and private.
Anita, Teresa and Valentina come from different Italian regions and different social backgrounds, but share the same feelings: they no longer feel part of a society based on the patriarchal family, on the power of "husbands" and on the supremacy of males, which requires them to be efficient mothers, obedient wives and virtuous daughters.
Production
MIR Cinematografica
In association with
Fox International Channels Italy CULT
Coproduction
Ventura film e RTSI – Televisione Svizzera
Cast
Valentina Carnelutti
Anita Caprioli
Teresa Saponangelo
Producers
Gianfilippo Pedote
Francesco Virga
Coproducers
Andreas Pfaeffli
Elda Guidinetti
Music
Ronin
Editing
Ilaria Fraioli
Executive producer
Gaia Giani
Animations
Cristina Diana Seresini
Voice
Anita Caprioli
Teresa Saponangelo
Valentina Carnelutti
Archive stills
Paola Agosti
Sound designer
Benni Atria
Sound editing
Francesca Genevois
Film footage
Riccardo Lacchè
Annamaria Licciardello
Supervisor
Silvia Ballestra
History Consultant
Diego Giachetti
Music Consultant
Mauro Ermanno Giovanardi
Distribution
Mikado

Candidate for the "David di Donatello" for Best Documentary.
Nomination for Best Editing and Best Documentary at the Nastri d'Argento.
25° Torino Film Festival.
51° London Film Festival.
60° Locarno Film Festival Piazza Grande.
IDFA International Documentary Festival Amsterdam.