VIA PADOVA- USER'S MANUAL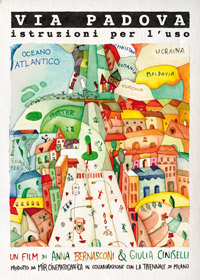 VIA PADOVA- USER'S MANUAL
by
Giulia Ciniselli and Anna Bernasconi
Italy, 2010, MiniDv, 50′.
Maria is a grandmother of four, she is a caregiver and every week she sends parcels of gifts to
Moldavia. Rosario is a single mother, she has two jobs and comes from Ecuador. Lola is an Argentinean prostitute and Tomoko a Japanese pop artist. Nihal arrived from Egypt in her wedding dress and lives in the apartment building where drugs are pushed. Jenny and Dorothea are 16 and they chase them out of the shops because they are Roma. Fragments of lives meet in Milan in Via Padova, 4 kilometres that go from the city centre to the outskirts.

Production
MIR Cinematografica
In association with
Triennale di Milano
Supported by
Comune di Milano
Producers
Gianfilippo Pedote
Francesco Virga
Music
Piero Milesi
Orchestra di via Padova
Marian Serban
Cinematography
Anna Bernasconi
Editing
Giulia Ciniselli
Distribution
MIR Cinematografica

Milano Film Festival 2010.
Sguardi Altrove 2011.
Sulmona Film Festival 2010.