ALL ABOUT YOU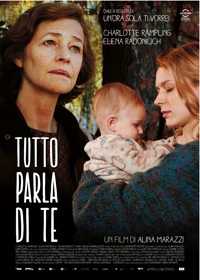 ALL ABOUT YOU
by
Alina Marazzi
Italy/Switzerland, 2012, HD-2K, 84′.
Pauline (Charlotte Rampling) returns to Turin – her place of birth – for the first time after many years and gets in touch with Angela (Maria Grazia Mandruzzato), whom she had earlier met abroad and who now manages a Maternity Center. Here Pauline undertakes a research project on the experiences and problems of today's mothers, starting from the statements, videos, photographs collected by Angela.
Among the mothers attending the Center there is Emma (Elena Radonicich), a young and elusive dancer in deep crisis: she doesn't know how to face the responsibilities demanded by motherhood and sees her life at a standstill. She feels alone and inept.
Between the two women, a relationship of complicity develops, which in a play of reflections, will lead Pauline to come to terms with her own tragic past and allow Emma to discover a meaningful sense of self in her new identity as a mother.
Tutto parla di voi un progetto in rete sulla maternità.
Production
MIR Cinematografica
In association with
FIP
Intesa Sanpaolo
Contrasto
Coproduction
Ventura Film
Supported by
Rai Cinema
RSI (Radio Televisione Svizzera Italiana)
MiBAC Direzione Generale Cinema
Eurimages
Repubblica e Cantone Ticino
ISA Urbino
Film Commission Torino Piemonte
Cst
Charlotte Rampling
Elena Radonicich
Valerio Binasco
Maria Grazia Mandruzzato
Producers
Gianfilippo Pedote
Francesco Virga
Elda Guidinetti
Andres Pfaeffli
Music
Dominik Scherrer
Cinematography
Mario Masini
Editing
Ilaria Fraioli
Executive producer
Gianfilippo Pedote
Production designer
Petra Barchi
Costumes
Bettina Pontiggia
Animazions
Beatrice Pucci
Distribution
Bim
Intramovies