ESCAPE FROM THE CALL CENTER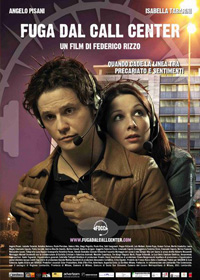 ESCAPE FROM THE CALL CENTER
by
Federico Rizzo
Italy, 2009, HD, 95′.
Young temp Gianfranco Coldrin, a model university student with a degree in "volcanology", makes a trip through hell on the lowest rung on the professional ladder in a call centre.
When his adoptive grandparents send them off into sudden undesired independence, Gianfranco and Marzia come up against the grotesque reality of an upside-down world governed by rather suspicious individuals in which university degrees and skills have no value and dreams and ambitions are broken by the harsh reality of making it to the end of the month.
Marzia wants to be a reporter but finds herself forced to accept employment as a switchboard operator for an erotic hotline, while Gianfranco sinks into the trap of holding down two jobs. Despite the enthusiasm of their youth and good intentions, the contrast between their expectations and the reality of a "horribly expensive" life end up having an impact on their relationship. Everything suddenly seems unstable and about to collapse: their sentiments as well as their jobs. But then something happens…
A story told in film, punctuated by interviews with real life call centre operators. A romantic comedy packed with dark humour, a fresco of a generation of "heroes" trying to "escape".

Production
Coperativa Gagarin
Ardaco
In association with
Ester Productions
Orda D'oro Film
Adverteam
Augustuscolor
Lo Scrittoio – Milano
Pontaccio
Supported by
Camera Del Lavoro di Milano
Regione Lombardia
Provincia di Milano
Comune di Milano
Comune di Sesto San Giovanni
CGIL Lombardia
Cast
Angelo Pisani
Isabella Tabarini
Natalino Balasso
Paolo Pierobon
Debora Villa
Diego Pagotto
Paolo Riva
Tatti Sanguineti
Subject
Federico Rizzo
Emanuele Caputo
Scriptwriting
Federico Rizzo
Emanuele Caputo
Nerina Fiumanò
Alessandro Leone
Music
Caparezza
Tre Allegri Ragazzi Morti
Peppe Voltarelli
Le Luci Della Centrale Elettrica
Jimsonweed
Superpartner
Guido Tognarin
Cinematography
Luca Bigazzi
Editing
Manuel Donninelli
con la collaborazione di Carlotta Cristiani e Valentina Andreoli
Executive producer
Franco Bocca Gelsi
Soundperson
Roberto Mozzarelli
Sound editing
Giorgio Vita Levi
Selected at Tbilisi 10 Film Festival, Georgia.
Lodi Film Festival – Best movie.
Prize to Orda D'Oro Film as best example of independent production and distribution.
Clorofilla Film Festival – Best movie.
Best Actor (Angelo Pisani), Mantova Film Festival – Best movie.
Karlovy Vary International Film Festival –Forum of Independents competing.
Prize "Sergio Amidei" – Spazio Off.
Italian cinema seen by Milan – Competing.
Sguardi di Cinema Italiano – Students Award.
FilmMaker – Special event out of competition.
Classified Film d'essai by MIBAC (Italian Ministry of Culture).