BABBONATALE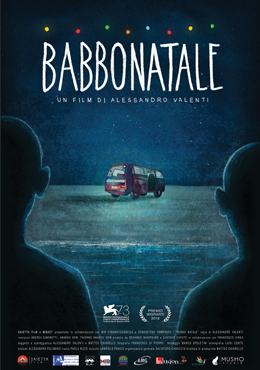 BABBONATALE
by
Alessandro Valenti
Italy, 15 min, 2016.
Two African children arrive with a boat to the Salento coast in search of a better life. Their adventure will make them meet with a bizarre character wearing a Santa Claus costume. The horror of their narratives becomes the aesthetic of this short film, a horror tale. The discovery of the West as a black and sour story. A dark fable that builds up with the meeting with what we could call a good Samaritan, a raver altered by drugs that however somehow finds a kind of Grace. He is disguised as Santa Claus and has done so because he needs to look at himself in another way. He wants to escape from his own prison. He wants to be elsewhere.
In this elsewhere he meets two refugees, forgets about his troubles and decides to help them.



MIGRARTI award– 73^ Mostra internazionale d'arte cinematografica di Venezia
Production
Edoardo Winspeare,
Gustavo Caputo,
Francesco Virga
Executive poroducer
Matteo Chiarello
Production
Saietta Film,
In collaboration with
MIR Cinematografica,
Fondazione Emmanuel "Don Francesco Tarantini",
with the contribution of MIBACT – Bando MIGRARTI
Director
Alessandro Valenti
Actors
Andrea Simonetti
Amadou Sow
Thierno Amadou Ngom
Subject and Screenplay
Alessandro Valenti,
Matteo Chiarello
With the collaboration of
Daniele Rielli
DOP
Francesco Di Pierro
Editing
Marco Spoletini
Scenography
Luigi Conte
Sound
Gianluigi Gallo