GLADIO- NATO'S SECRET ARMY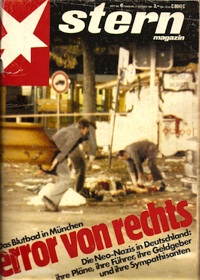 GLADIO- NATO'S SECRET ARMY
di
Andreas Pichler
Italia/UK, 2009, HD, 52′.
In the 1950s, the NATO promoted the creation of the operation Stay Behind. Andreas Pichler courageously investigates the obscure connections between the secret national armies – Gladio in Italy – and the wave of terrorist attacks that overwhelmed Europe between the 1960s and 80s: the massacre of Brabant, the bomb at the Oktoberfest and the bomb in Piazza Fontana are tragedies rooted in the collective memory and still unsolved. But why did they stay behind? Troublesome, unexpected and necessary.
Production
MIR Cinematografica
In association with
AETN,
The History Channel Uk,
Canal Historia,
The History Channel/Fox,
The History Channel/Deutschland,
RSI- Televisione Svizzera
Supported by
Programma Media Unione Europea
Scriptwriting
Vania Del Borgo
Nadia Hall
Producers
Francesco Virga
Gianfilippo Pedote
Music
Massimo Carozzi per ZIMMERFREI
Cinematography
Martin Prast
Simone Pera
Bruno Sorreqntino
Editing
Johannes Nakajima
Executive producer
Paola Tursi
Sound editing
Massimo Carozzi
Drawings
Pietro Spica
Graphics
Cut&Paste
Distribution
Electric Sky Ltd (UK)

Milano Film Festival 2010.