IL SOGNO DI FRANCESCO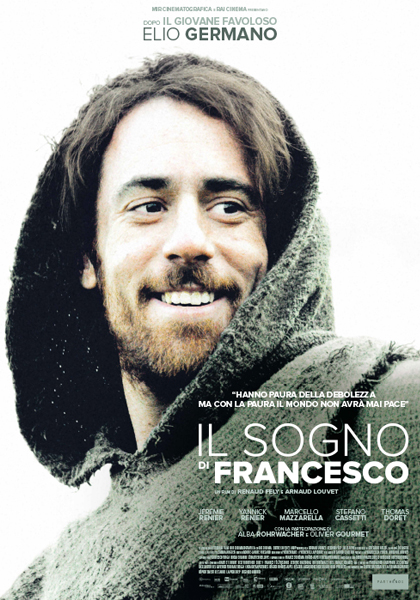 Il sogno di Francesco
by
Renaud Fély and Arnaud Louvet
France, Italy, Belgio, colour DCP, 90′, 2016.
Assisi, 1209. Francis just ignored Innocent III's refusal to approve the first version of the Rule, which, while safeguarding the spirit of their community life, would protect the brothers from the threats that weigh on them.
Around him, among his first companions, his fellow friend Elijah from Cortona leads the difficult dialogue between the confraternity and the papacy: to obtain the recognition of the Order, Elijah tries to convince Francis of the need to abandon the intransigence so far demostrasted, agreeing to write a new Rule. But what would remain of Francesco's dream diluted by compromises? Will the friendship between Francesco and Elijah survive the conflict between idealism and realpolitik?
Prodcution
ÆternamFilms
Coproduction
MIR Cinematografica
with
Rai Cinema
EntreChien et Loup
Produced by
Francesca Feder
Arnaud Louvet
Coproduced by
Francesco Virga
Diana Elbaum
Sébastien Delloye
In coproduction with
France 3Cinéma
Rhône-Alpes Cinéma
Proximus
With the participation of
Haut et Court Distribution
In association with
Credito Valtellinese
Mercure International
Direction
Renaud Fély and Arnaud Louvet
Main actors
Elio Germano (Francesco D'Assisi),
Jérémie Renier (Elia da Cortona),
Yannick Renier (Domenico),
Eric Caravaca (Leonardo),
Thomas Doret (Stefano),
Alba Rohrwacher (Chiara D'Assisi),
Olivier Gourmet (Cardinale Ugolino),
Marcello Mazzarella (Rufino).
Screenplay
Arnaud Louvet, Renaud Fély, Julie Peyr
with the collaboration of
Elizabeth Dablemont
Original soundtrack
Grégoire Hetzel
DOP
Léo Histin
Live sound recordings
Ricardo Castro
Costume design
Marie-Laure Pinsard
Scenography
Frédérique e Frédéric Lapierre
Editing
Emma Augier
Press office
Gabriele Barcaro