THE MILLION DOLLAR BET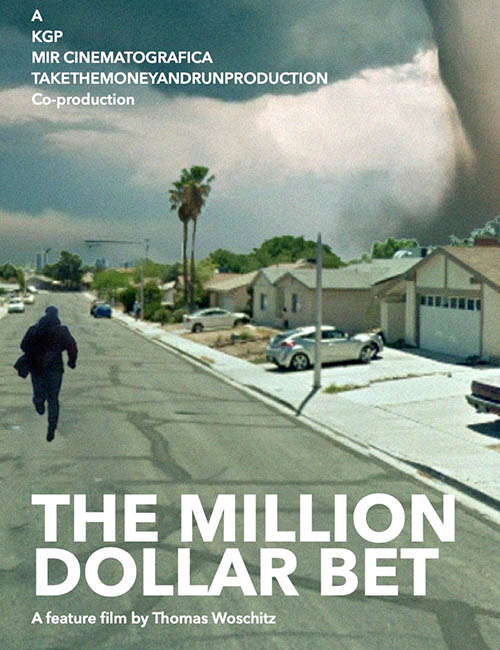 Co-Production
KGP
MIR Cinematografica
TAKETHEMONEYANDRUNPRODUCTION
Director
Thomas Woschitz
Written by
Andrea Piva & Thomas Woschitz
Cinematography
Enzo Brandner
Casting
Jessica Sherman CSA
Executive Producers
Gabriele Kranzelbinder &
Francesco Virga
THE MILLION DOLLAR BET
By
Thomas Woschitz
A comedy drama.
Winter in Las Vegas. After a night of heavy drinking, the two world class poker players Hank and Jack enter into a bet: despite being untrained, Hank claims he can run 70 miles in 24 hours. The bet is worth one million dollars. But what starts as a game soon turns into a gruelling existential tale about life and death, friendship and money.
Jack and Hank couldn't be more different. One is a level-headed mathematical genius and the other is nothing short of a loose cannon. One is African-American from the impoverished Midwest and the other is white upper class. What unites them is their profession - poker - and their friendship.

Betting against each other isn't something they had planned. In fact, neither of them has any clue what they are getting themselves into. That the bet will make them ponder the questions of life. That it will open old childhood wounds, but also give the opportunity to heal them. And most importantly, that it will put their friendship to an ultimate test.

As Hank runs around the block under the watchful eyes of Jack, they are joined by a group of quirky characters who add a dose of humor and reality to an otherwise gritty story: their always-hungry roommate Tony; their neighbor Nancy, a rather cynical senior citizen; Hank's sister Janet, a so-called "normal person"; and Ursula, a tough-as-nails Scandinavian masseuse.

It doesn't help that the bet is threatened by a looming sandstorm, a hit-and-run accident and, last but not least, Hank's mother. But sometimes a guardian angel finds you when you least expect it.