UNCLE SEM & THE BOSNIAN DREAM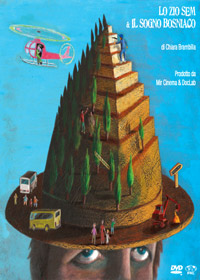 UNCLE SEM & THE BOSNIAN DREAM
di
Chiara Brambilla
Italia, 2008, Digibeta, 52′.
The hills of Visoko, a lost village in the heart of Bosnia, are hiding five pyramids created by a disappeared civilization: they are the oldest and highest in the world. This is what Semir Osmanagić, an enterprising and mysterious Bosnian businessman returned to Visoko after fifteen years of exile in the United States, sustains.
The discovery of the pyramids has twisted the imagination of a small local community and their lives by attracting televisions, scientists and curious people from around the world. The real protagonists of this film are the local inhabitants: ordinary people catapulted from one day to another to the center of the stage, who are trying to come to terms with the tragedies of recent history and the need to look forward.
'Uncle Sem and the Bosnian dream' is a human comedy, alternating light and bitter tones. The movie narrates a year of life in the microcosm of Visoko after the striking discovery. With dazzling insight Semir Osmanagic gradually gave way to dream with open eyes to an entire community: The Bosnian Dream.

Production
MIR Cinematografica
In association with
DocLab,
CULT/Fox International Channels,
RTSI Televisione Svizzera-Italiana
Supported by
Programma Media Unione Europea
Subject
Chiara Brambilla
Producers
Francesco Virga
Gianfilippo Pedote
Marco Visalberghi
Music
Alexander "Zar" Caric
Cinematography
Harm Griekspoor
Editing
Claudia Cormioi
Executive producer
Paola Tursi
Sound
Giacomo Avanza
Predrag Doder
Bernardetta Signorin
Distribution
10 FRANCS

"Vela d'oro" Award Bellaria Film Festival 2008.
"Avanti!" Award Bellaria Film Festival 2008.
"Silver Flower" Award Flower Film Festival 2009.
Indipendent Movie Now 2009.
Cantieri del documentario 2008.
Milano Film Festival 2010.