LITTLE DIVAS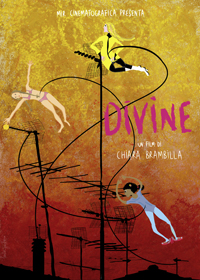 LITTLE DIVAS
by
Chiara Brambilla
Italy, 2010, HD, 52′.
Little Divas portrays the celebrity rush of three young girls on the verge of adolescence, working as models in the Italian fashion business.
Rebecca, 10 years old, attends any kind of casting and shooting but her way to the stage is difficult and the failures are frequent. Her parents want her to be a model more than she does. Emily, 9 years old, black, is starting her career as model. Her dream of fame reveals the will of revenge from the inadequacy feeling caused by the colour of her skin. Lucrezia, 10 years old, is already the queen of the catwalk. The most popular fashion brands want her as their testimonial. She feels comfortable in front of the flashes and being a model allows her the chance to explore her femininity and seduction potential.
What does it mean for these girls to aspire to celebrity? What is the flavour of this first taste of fame? How do they experience all of this? The price is a life divided between travelling, waiting rooms, casting calls and, for some, the spotlight: a sacrifice of childhood?
The documentary is an intimate portray of these three young girls; we look into their dreams, their fears, their world but we also intend to investigate an Italian story, that reveals our fashion business "behind the scenes" in the contemporary image-addicted world.
Production
MIR Cinematografica
In association with
Fox Channels International
Supported by
Naba- Accademia delle Belle Arti
Programma Media Unione Europea
Producers
Francesco Virga
Gianfilippo Pedote
Music
Davide Santi
Davide Torrile
Marco Levi
Cinematography
Chiara Brambilla
Fabrizio la Palombara
Marco Gatti
Carlo Pastaccini
Editing
Valentina Andreoli
Executive producer
Susanna Sguera
Distribution
MIR Cinematografica

FIGRA 2011.
Histoire d'It 2011.