TRECCANI AND GENTILE- THE BENEFACTOR AND THE PHILOSOPHER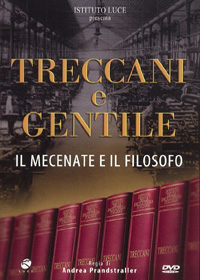 Production
MIR Cinematografica
In association with
Istituto Luce
Associazione Culturale Amici Giovanni di Treccani degli Alfieri
Supported by
Regione Lombardia
Comune di Milano
Provincia di Milano
Provincia di Brescia
Comune di Montichiari
Comune di Schio
Comune di Magnago
Cast
Roberto Vandelli
Subject
Andrea Prandstaller
Andrea Treccani
Producers
Gianfilippo Pedote
Francesco Virga
Andrea Treccani
Music
Paolo Perna
Cinematography
Andrea Treccani
Editing
Simona Paggi
Executive producer
Susanna Sguera
Voice
Omero Antonutti
Distribution
MIR Cinematografica

TRECCANI AND GENTILE- THE BENEFACTOR AND THE PHILOSOPHER
by
Andrea Prandstraller
Italy, 2008, Digibeta, 62′.
If we asked every Italian today what word they associated with the name « Treccani »,nine out of ten would surely answer without any hesitation :« Encyclopedia ». Equally sure is that, if we asked whythe Italian Encyclopedia is so named, enough so to be commonlyrefered to as « La Treccani », few of them would be ableto give a correct answer. Indeed, the fact that a such grand andnotorious work is connected to its creator and financier's surname,may be an unique case in the cultural panorama, not only in theItalian but even the international canon.
And yet if Italy canboast about possessing an encyclopedia considered among the best inthe world, it owes it exclusively to the obstinance of GiovanniTreccani degli Alfieri, the man who decided to found and finance aninstitute that would promote the realisation of this monumental workin 1925.
The movie tells thethrilling story of Giovanni Treccani degli Alfieri and themagnificent Encyclopedia he devoted his life to in the 30s. Abrillant industrialist who took the responsability to financiallysupport an initiative of such enormous cultural value, conceived withGiovanni Gentile and to which the greatest intellectuals of that timegave their contribution.
The story of GiovanniTreccani, captain of industry, senator, benefactor (la traduzioneessata sarebbe « merchant » ma secondo mi benefactor emeglio), is profoundly entangled with the story of our country, fromthe fascist period to the 1962, when he passed away.